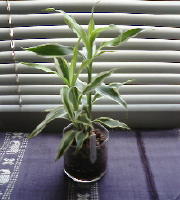 I bought a foliage plant 'Sanderiana'♪
It's very pretty and I love it.
Honestly, I'm not good at cultivating plants.
To my regret, I killed off a small potted flower
which I reared so carefully last month...(T_T)
But foliage plants are different!
It's very easy to care and I've been keeping
'Potos' for more than 6 months.
That's why I decided to buy
one more foliage plant this time.
無印にて、'サンデリアーナ'という
かわいい観葉植物を買いました★
ずっと前に買った'ポトス'が
順調に育ってくれているので、
調子に乗って2つ目。(^^)v
-Allie